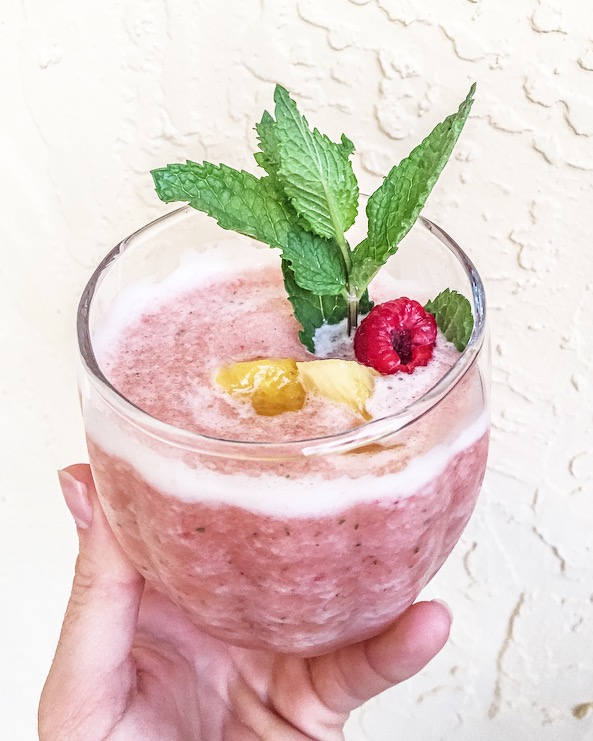 Spring has sprung, and summer is right around the corner. Which means we're all going to need something cool and refreshing to wet our whistles. Screw do-nothing, virgin mocktails and boring, flavorless beer. It's time for something different.
It's time for…
WINE SLUSHIES!
I know what you're thinking. Why have I not thought of this before?? I mean, we've all had margaritas and daiquiris, so you'd think it would've occurred to us at some point to include vino in the mix, but WHATEVER. All that matters now is that we've discovered it. And we'll look classy AF drinking it.
Plus, it's almost Cinco de Mayo. You know, the holiday we all know nothing about, when all we really care about is eating tacos and getting drunk on tequila? Yeah, that one. Might be a nice time to dial down the picante level on your liver and have wine instead. Just saying…
How to make the Pineapple Mint Wine Slushie
Ingredients:
1 C Sauvignon Blanc
3/4 C Pineapple
1/4 C Raspberries
2 Tbsp Sugar
8 Mint Leaves
3 C Ice
What To Do:
Roughly chop your pineapple and mint leaves
Put everything into a blender
Press ON
Pour
Woah, guys. Did you follow all that? Pretty complicated stuff. If you want to get fancy, and let's be honest, who doesn't… you can add some diced pineapple, a couple raspberries, and a sprig of mint to each slush. This serves 2-4 people, depending on the size of the glass, or the size of the human. The citrus in the Sauv Blanc pairs extremely well with the sweetness of the pineapple and the freshness of the mint, and the raspberries add that little something extra. Not to mention, this slushie is straight up GORG. After all, you eat (drink) with your eyes first.
This baby is super refreshing. And it's just begging you to put on your bathing suit, lay by some water, and sip on it. Because summer. Consume responsibly, my fabulous little foodies. And don't forget to stay hungry!